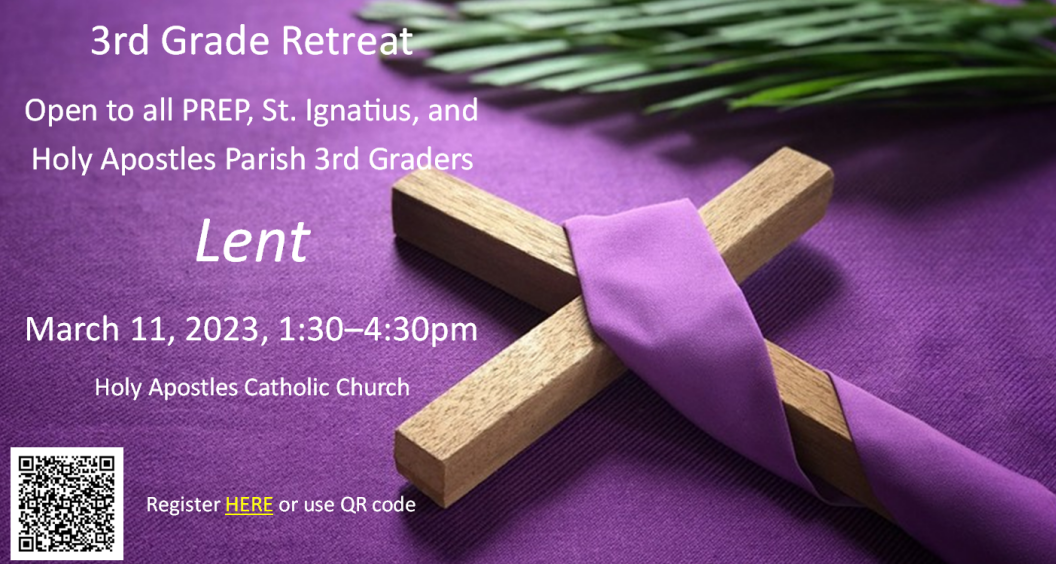 Welcome to PREP — Parish Religious Education Program
Holy Apostles PREP strives to be a joyful place where children can form relationships, learn that God loves them, grow closer in relationship with Jesus and begin an understanding of the Catholic faith.
Each year classes begin in September but we can add children to the program all year long*.
It's never "too late" to make disciples! We're here to serve you and your family!
*except for 2nd Grade & Sacramental Preparation Classes. Call the PREP office for more information.
Cutoff for 2022–2023 First Reconciliation/First Holy Communion classes is 5pm on October 14, 2022
Classes
Class start dates: Mon/Tues classes begin September 12/13, Sunday classes begin September 18, 2022.
Classes for grades 1–5 are held on Mondays at 4:30pm, Tuesdays at 4:30pm, or Tuesdays at 6:30pm.
Sunday morning Prek–Kindergarten classes are typically held during the 9am Mass and 11am Mass on the 1st and 2nd Sundays of the month.
Our classes generally follow the West Ada school year calendar — beginning in September and ending in early May.
PREP Calendars and Schedules
Click HERE for the full 1st-5th Grade schedule for 2022-23
Click HERE for the Prek-3/4 & K Sunday schedule for 2022-23
Click HERE for Important Dates for First Reconciliation and First Eucharist preparation
Click Here for a calendar of special events and important dates for PREP families
Inclement Weather Policy: If West Ada School District cancels school, we will NOT have PREP classes on that day. In the case of midday weather events, if West Ada cancels afternoon or evening activities, we will also cancel. Contact the PREP office via email with any questions.
A copy of your child's baptism certificate must be provided when registering for 2nd Grade/Sacramental Preparation classes.
Call the PREP office for registration information after Oct 14, 2022.

**Financial aid is available**
For more information, contact Jennifer Severance or Amy Urian in the PREP office at or 208-888-1182 x417 or x422